CARE BLOG
Typhoon Haiyan Relief by the Numbers
Just over a month ago, one of the worst storms on record swept through the Philippines, leaving death and destruction in its wake.
It's the worst times that can really bring out the best in people – and after the storm, there was an immediate and generous response. I saw the outpouring of support from CARE donors and people around the world.
While we'll be in the Philippines for many years to come, I thought you might want to see some of the remarkable things that CARE supporters like you have already made possible.
Shelter kits distributed: 20,000
Shelter materials include tarps, nails, wire, and tools – resourceful families also found use for the plastic packaging.
Fastest shelter kit assembly time: 1 hour
The people of the Philippines were immediately ready to rebuild – this family put a CARE tarp to use within an hour after receiving it!
Rice distributed: over 88,185 lbs
An eleven pound bag of rice will last a family of five approximately three days. And these bags are just the right size for women to carry home.
Families fed with food baskets: 8,000
Baskets contain a variety of foods, including rice, sugar, salt, oil, dried fish, canned meat, canned fish, beans, and/or biscuits. (Watch out for the cats: they want the fish too.)1
Number of families CARE plans to reach: 40,000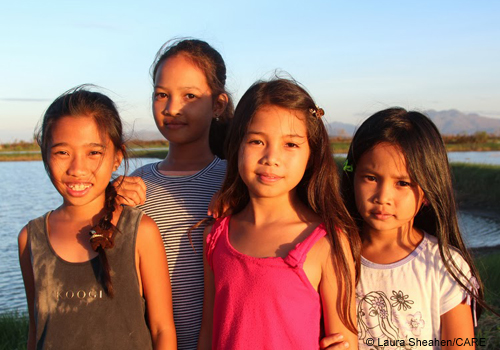 That's over 200,000 whose lives will be a little bit better – thanks to you.
Thank you for making all of this possible.
Sincerely,


Helene D. Gayle, MD, MPH
President and CEO, CARE